To a child, Mighteor's games look like most things children would play on a smartphone — easy to control, fun to play and cool graphics. But these games serve a deeper purpose: helping kids learn how to better manage their emotions.
After going through two clinical trials, a Boston-based startup called Neuromotion Labs recently made Mighteor, its first product, available for purchase, combining a suite of mobile games with a wearable heart rate monitor. Neuromotion, which was one of the silver winners of the 2016 MassChallenge awards, raised a $1.2 million seed round last fall from local venture capital firms Founder Collective and Project 11, along with some angel investors.
The idea for Mighteor originally came out of research at Boston Children's Hospital that was trying to address a big question in pediatric health: Can you help children regulate their emotions in a way that feels natural for a kid? In other words, the researchers wanted to find a new way to help kids lower stress that didn't come in the form of medication, with all of its side-effects, or psychotherapy, which can be difficult for kids to deal with.
So the researchers — which included Jason Kahn, a co-founder and Neuromotion's chief science officer — began experimenting with toys and games to see if they could help children regulate their emotions. One of the original components that remains core to how Mighteor works is a wearable heart rate monitor that syncs with the game and makes the game more difficult if the child's heart is beating faster.
Craig Lund, Neuromotion's CEO and co-founder, told BostInno that the thesis behind the heart rate monitor is that if a child's heart rate is going up because she is stressed or has too much energy, the game's increased difficulty will encourage her to find ways to calm down and, therefore, lower her heart rate. In Mighteor's "Hibachi Hero," which has a similar premise to the popular fruit-chopping "Fruit Ninja" game, the grill that players cut chop food over will create more smoke and decrease visibility if the player's heart rate is high.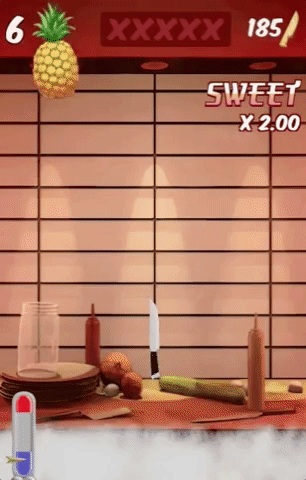 Lund said some parents thought this increased difficulty would frustrate children and cause them to stop playing or, worse, throw the tablet across the room. But based on the results of two clinical studies — one at Boston Children's Hospital and another at Harvard Medical School — Neuromotion has shown that Mighteor can reduce outbursts by 62 percent, decrease oppositional behaviors by 40 percent and lower parental stress by 19 percent. The research has been published in Games for Health Journal and Clinical Social Work Journal, both of which are peer-reviewed.
The hope is that children can use Mighteor as a way to learn how to stay calm, especially when dealing with difficult or challenging situations.
"When you have well up of emotion and you don't know what it is, you don't know how to control it," said Lund, who was previously a longtime executive at 1366 Technologies. "But if you have a screen showing that it's this knob inside me, then you can learn how to turn the knob inside yourself."
To help parents keep track of their child's progress, Mighteor provides an online dashboard that parents can access from the company's website.
Between the studies at Boston Children's and Havard and ones currently happening at Massachusetts General Hospital and the Justice Resource Institute, 320 children have participated. Beyond that, about 130 families participated in Mighteor's beta, which doesn't include an additional 200 families that have signed up since public access has opened up.
"We truly believe this is something most humans can benefit from."
Mighteor is available as a three-month starter kit, which comes with a tablet and a wearable heart rate monitor, for $249. If families aren't satisfied, they can return it at any point within those three months for a full refund. For families that continue to use the product after that initial period, Neuromotion charges $19 a month.
Lund and Kahn co-founded Neuromotion with Trevor Stricker, a video game industry veteran who has worked for Sega and 2K Games.
In the future, Lund said he sees Neuromotion adding other types of modules for kids of different ages who are struggling with different conditions. The company also plans to eventually expand its focus to adults. If there's a larger mission at play, it's to increase access to emotional wellness services for everyone.
"We truly believe this is something most humans can benefit from," Lund said.